Simply Cool
Updated: June 06, 2004, 00:00
Simply Cool is a Klient display preset which tries to emphasize on the actual chat content by hiding non-chat events in low contrast.
Screenshots
Click on a picture to see a full resolution screen shot.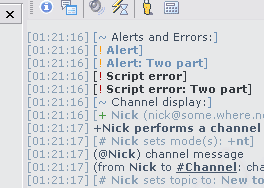 This is a kDMP screen shoot featuring some of the masks.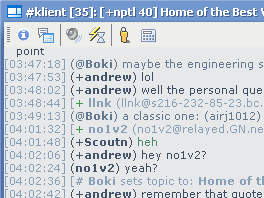 A "live" screen shoot, taken from #Klient.
Color Coded Window Selectors
The window tree and switchbar are color coded for the important events. When an event takes place with the window inactive, the switchbar and the window tree will highlight in the color of the specific event.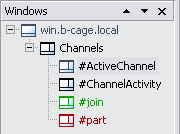 Channel activity (messages, action, etc.) are highlighted when the window is not active, non-chat events (join, part, etc.) only cause a highlight when the window is minimized.
Flashing has been disabled to create a "quieter" or simpler display.

Member colors

Channel members are color coded to easily distinguish between the different member modes. And your own nick is highlighted.